Causes of baldness
Baldness occurs in both men and women, but it is more common in males. Causes for baldness include hereditary factors, aging, lifestyle, illness and trauma, burns and bad reactions to medications.
Heredity/Genetics
Not only do we resemble our aunts and uncles, we also share much of the same genetic makeup. If your aunts and uncles appear to have had hair loss issues in the past, there is a greater likelihood that you have the same gene. Genetic problems with hair loss are more difficult to treat, though not impossible.
Aging
As we age, the regenerative ability of the body declines. When cells die they are not replenished with the ease and regularity of an individual's youth. Follicular regeneration is no exception and also slows down. Over time, hair loss becomes greater than hair re-growth.
Illness
Illness wastes the body in many ways and also affects its ability to heal/re-grow and rejuvenate. Hair loss is often associated with illness and trauma.
Source: IRB Clinical Study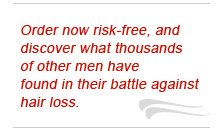 Medications
Certain medications induce allergic reactions as well as other side effects that could result in hair loss and balding. Sometimes such symptoms are reversible, provided the medication is stopped before the hair loss becomes permanent.
Chemotherapy
Chemotherapy, part of the treatment for Cancer, results in severe hair shedding often causes total baldness. In most of these cases, however, the hair will grow back.
Hair Restoration
The good news is that most causes of hair loss can be treated and the hair loss itself can be totally reversed. Only a proper diagnosis can ascertain the real cause of balding, so a visit to a physician is advisable. Rarely is there a reason to assume the worst from your hair loss.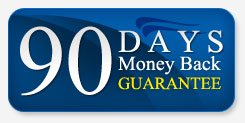 Video Testimonials
Customer Testimonials
I ordered a three months supply (as a test) and have noticed a real improvement in thickness, texture and growth. I am 71 and I expect to lose some hair, however this product has stopped and reversed the hair loss. I have ordered a six month supply this time.
Mr. C, San Diego, CA
I am absolutely amazed at the results of your product !! I am the world's biggest skeptic and only ordered Procerin out of sheer desperation. After just two weeks I noticed little to no hair in the tub after shampooing. Two months later the bald spot in the back of my head has filled in almost completely!!
And...I'm 58 years old !! Great product...I'm sold for life. - John N. Nashville, TN
I'm now on my fifth bottle of Procerin and I couldn't be happier. Having been an avid gardener for many years, I have a trained eye for noticing minute changes in growth patterns. My hairline is staring to come back to where it was years ago. It's great to see little hairs sprouting, and getting longer and darker. When I first started taking your product, I was a bit skeptical and had some questions which were answered promptly by your support. Delivery was also lightning fast and hassle free.
Alvaro M. Madrid, Spain