Symptoms of Baldness
From the early signs of baldness, a steady loss of hair is easily noticeable, characterized by receding hairlines, bald spots on the front of the head, and a significant amount of stray hairs caught in a comb or brush. If these symptoms are noticed at an early enough age, the consequences of leaving this untreated can be great.
The first indicator of baldness is usually your comb, brush or shower drain. When you start noticing more than the normal hair shedding it is time to take notice and consider starting a hair therapy treatment regimen.
You could take a closer look at your diet, lifestyle, and family history of baldness to try and figure out a cure, though it is best to call a competent physician. Remember, though, a positive and calm outlook goes a long way in helping find the right remedy or formula to effectively control hair loss. Stress is itself a cause of hair loss, so worrying that your hair may never return may negate any positive effects of a baldness treatment.
Source: IRB Clinical Study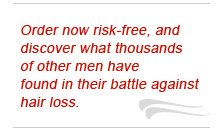 If you notice a great deal of hair on the shower floor or comb, but are not sure that you are losing your hair at a worse than normal rate, check out the front or sides of the forehead. These are the first places that an individual sees their hairs fall out, and if it appears that the hair in these areas is receding, baldness may be in your future. Also, don't be afraid to ask your hair stylist if they think they see a problem - no one knows hair as well as them, and they will not be embarrassed to tell you an honest answer.
Sudden bald patches are the most urgent indicators, usually implying a problem with a medicine or stress. Luckily, these conditions are also the most reversible. Individuals who regularly take nutritional and dietary supplements stand a greater chance of slowing down hair loss and the onset of baldness, especially when the cause is not genetic.
Brittleness of hair, thinning of hair, a change in the hair texture should also be taken as indicators of a possible balding problem, and if you believe you notice them you should consult a professional as soon as possible.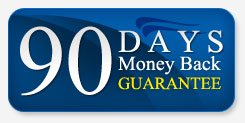 Video Testimonials
Customer Testimonials
I ordered a three months supply (as a test) and have noticed a real improvement in thickness, texture and growth. I am 71 and I expect to lose some hair, however this product has stopped and reversed the hair loss. I have ordered a six month supply this time.
Mr. C, San Diego, CA
I am absolutely amazed at the results of your product !! I am the world's biggest skeptic and only ordered Procerin out of sheer desperation. After just two weeks I noticed little to no hair in the tub after shampooing. Two months later the bald spot in the back of my head has filled in almost completely!!
And...I'm 58 years old !! Great product...I'm sold for life. - John N. Nashville, TN
I'm now on my fifth bottle of Procerin and I couldn't be happier. Having been an avid gardener for many years, I have a trained eye for noticing minute changes in growth patterns. My hairline is staring to come back to where it was years ago. It's great to see little hairs sprouting, and getting longer and darker. When I first started taking your product, I was a bit skeptical and had some questions which were answered promptly by your support. Delivery was also lightning fast and hassle free.
Alvaro M. Madrid, Spain