Cure for Baldness in Women
Female pattern baldness is not considered a medical disorder and its effects are only cosmetic or above the surface. It is also not as common or as severe as male pattern baldness though the underlying cause is hormonal in both instances.
There is no cure as yet for pattern baldness in both men and women and there is also no way of preventing the onset of pattern baldness. The only thing is to consult a good hair restoration specialist or trichologist and adopt a hair care regimen that includes topical applications, pills and supplements to strengthen hair from inside and out and also give the body added resources to produce better, stronger and fuller hair.
In women, fortunately, the cause for hair loss and baldness is not always female pattern balding. In fact, Alopecia is far less common an occurrence in women than in the case of men.
Pregnancy, Post-Menopausal syndrome, illness, medications, anemia, stress related disorders, diet and nutrition play a greater role in hair loss in women. Getting treated for any of the above conditions after proper diagnosis could very well lead to reversal of hair loss in a short time span.
Even in the case of Alopecia or female pattern baldness, certain medications and measures can be adopted to slow down the process of hair loss and strengthen hair, as well as protect existing hair through better hair care.
Read More....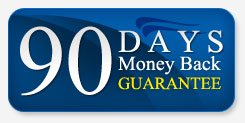 Customer Testimonials
My hairline is growing in very nicely and I am very pleased with the results...
I have used this product going on four months now. Before I started using your product I was balding around the hairline of my hair and was very disheartened about my appearance. I would do whatever I could to cover it up. I used many products that claimed to regrow your hair and non has worked until I found your product. My hairline is growing in very nicely and I am very pleased with the results. I don't have to hide my hairline anymore and this makes me very happy. Thank you for making such a wonderful product that works. - Darlene A.
Feeling much healthier and stronger...
I have been on the Sephren system for 4 months and I have noticed that the hair I do have is staying and feeling much healthier and stronger. - Marilyn H.
I started to notice a fullness to my hair...
I have tried different shampoos and conditioners and other chemical treatments to try and stop my hair from thinning with no noticeable results. After using Sephren for 2 months now, I started to notice a fullness to my hair that I had not noticed before. I visited my mother and even she commented on the difference as well. - Rose B.